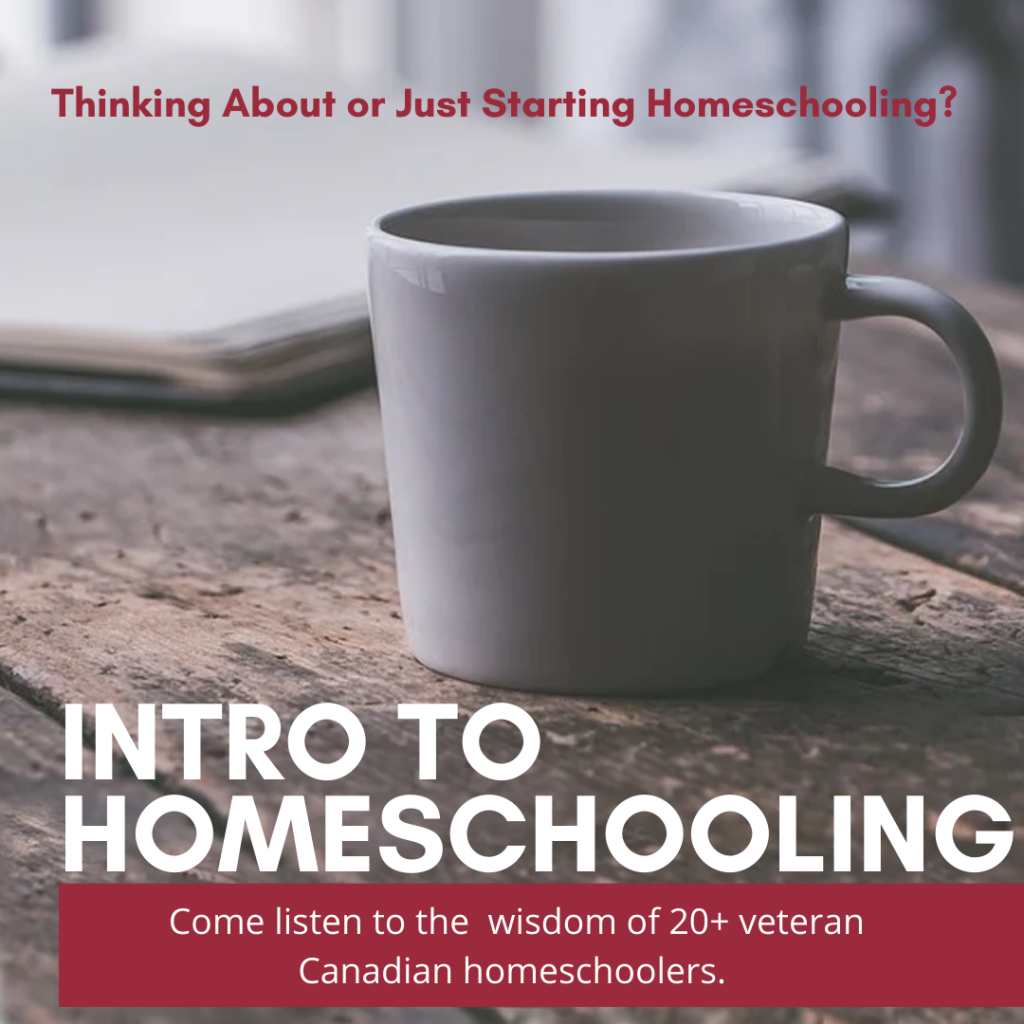 ARE YOU THINKING ABOUT OR NEW TO HOMESCHOOLING?
Often when you decide to start this adventure, there are feelings of overwhelm and uncertainty.
What if you could get some insight, advice, and encouragement from people who have already been through this? 
WELCOME TO THE INTRO TO HOMESCHOOLING SERIES.
Get wisdom from more than 20 veteran Canadian homeschoolers about everything from choosing a homeschool method, to advice for different subjects, to building relationships, to just practical day-to-day action plans.
Watch the Intro to Homeschooling Series To Get Your Adventure Started With Confidence!
ONLY $27
HOMESCHOOL METHODS
Learn more about the different styles of homeschooling to figure out which one, or which parts of them, best suit you and your family. 
• What's Your Homeschool Style?
• An Intro to Charlotte Mason
• The Art of Unschooling
• What is Classical Education?
• Unit Studies
• Making Montessori Ours
RELATIONSHIPS
Learn more about the value of relationships in homeschooling, how to handle opposition, and how to find your tribe.
• Relationships Matter
• Family Centred Learning
• Handling Homeschool Opposition
• Value of Relationships for Learning
• Finding Your Tribe: Support Groups
GETTING STARTED
Learn wisdom from those who've already walked this trail. Find out how to get on the right path to start your journey.
• Homeschool 101
• 10 Things I Wish I Knew Before HSing
• Do's & Don'ts of Successful HSing
• From Two Teachers: You Can HS
• Homeschool: The Early Years
• Homeschooling High School
• University, College, Art & Tech School
THE HOMESCHOOL LIFE
Learn more about how to fit all the pieces together to make your homeschool life run more smoothly without the overwhelm.
• The Myth of Balance
• Large Family Homeschooling
• Homeschool Mama Self-Care
• Hope for Homeschool Burn-Out
• Simplify Your Homeschool Life
LEARNING
Learn more about planning your year, with advice on how to teach a variety of subjects including math, science, history, and more.
• Planning Homeschool Curriculum
• HS Planning for Unorganized Mom
• Soar with Canadian History
• Math: Myths, Anxiety, and Challenges
• Nuturing Competent Communicators
• Innovative STEM & STEAM Education
• Teaching French in  Your Homeschool
Lifetime access, so you can take as long as you need to work through them and you can watch them again and again.
Voices in this series are from some of the most well-known names in the Canadian homeschooling community, like:
Teresa Wiedrick
Monique Boutsiv
Sarah Wall
Stéphane & Amanda Ostrander
Leanne Seel
Judy Arnall
Cori Dean
Jen MacKinnon
Hester Van Braeden
Bev Rempel
Stephanie Jackson
Rebecca Spooner
Donna Ward
Lisa Marie Fletcher
Ana Willis
Jennifer Gehman
Clara Campedelli
Rowan Atkinson
Bonnie Landry
Cherine Muirhead
Kelly Briggs
Shelley B.
Kathleen Cotter Lawler
NEW OR THINKING ABOUT HOMESCHOOLING?
Watch the Intro to Homeschooling Series To Get Your Adventure Started With Confidence!