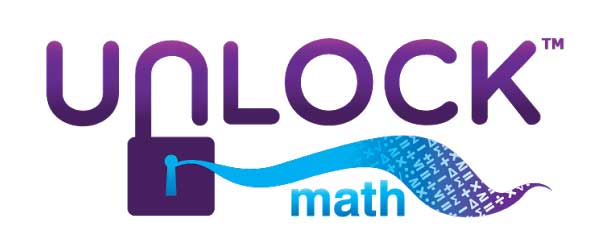 UnLock Math is an award winning online Canadian Homeschool Math Curriculum developed by second generation homeschool parents Matthew & Alesia Blackwood. They launched their first course, UnLock Pre-Algebra, in December of 2014  to rave reviews. They currently offer UnLock Pre-Algebra, UnLock Algebra1, and UnLock Algebra2 .  They already have students lining up for their fourth course UnLock Geometry which will be available later in 2017.
Why choose UnLock Math for your middle or high school level  child?
UnLock Math reawakens the love of learning math in your child! Their engaging lessons are taught by a real teacher breaking math into bite-size chunks that your child will find easy to understand & apply. Watch as math anxiety melts away to be replaced by the confidence that comes from understanding math instead of being bewildered by it.
They've designed UnLock Math to eliminate math anxiety and take the stress & frustration of teaching math off of your shoulders.
They care of the teaching, testing & grading for you.
They include unlimited practice & review so that skills stay sharp.
Their adaptive questions guide your child through difficult concepts, effectively "teaching" them as they go through the questions.
They've included Quizzes, Unit Tests, Midterm, and a Final Exam so you always know how your child is retaining what they've learned.
Plus they give you detailed reports, a pacing guide, transcripts upon request, and much more. Join the growing UnLock Math family and discover how delightful math can be when your child looks FORWARD to it instead of dreading it.
"Here's an update on Katie's experience with Dyscalculia & UnLock Math... This has been our best year of math EVER! She even said she was proud of herself, math & proud, I never thought I would hear that!" - Kathleen Piper
"We absolutely LOVE UnLock Math! I hope to be able to continue using it for our son at least through Algebra if not all the way through high school. We most definitely recommend you guys!" - Jennifer White
When I first learned of UnLock Math, I was curious, intrigued, and desperate to find a curriculum that would help my child who was struggling with math. I had unsuccessfully tried many other homeschool curriculums, and as a former elementary math teacher, I was discouraged. UnLock Math was an answer to prayer. My child has been challenged, been stretched, and with Alesia's guidance, has succeeded. Today I overheard my child telling a younger child, "I love mixed numbers. I can show you how to do that." That confidence, that willingness to engage, is a result of UnLock Math. Thank you!" "P.S. We are excited for the future levels." - Traci-Lynn Burt
"We were pleased with the awesome teaching videos, the constant re-enforcement of past concepts, and the challenge to go further at the end of each lesson. My husband has a master's degree in math from Duke University, and it had his complete approval." – Leslie
"Our family uses this program and we have been so pleased with the results. Our daughter who struggled in math is now WANTING to do her math even on the weekends and over the holidays. Great program!" – Mark
"My daughter absolutely loves UnLock Math! It has taken the stress out of Algebra for both of us!" – Lindsey
Have Questions or Want to Connect?
Matthew Blackwood
Phone: 1-705-559-3830
Our phone & chat hours are:
Mon - Fri 9 AM - 4 PM ET
Closed Sat., Sun. and Holidays
Email Address: [email protected]