I am Laurie Beesting, mainstream school teacher (now private math tutor) for over 30 years, and author of Bridge the Gap Math™- a new and DIFFERENT math book/program to help parents help their children to firm up JUST the often-missing-but-really-need-to-know-bits from the Intermediate (G4-7) curriculum. Since 2011, I have been researching, discussing, teaching and speaking about Intermediate math. The majority of my 1:1 students are G4-9; my book is based on their needs. My aim is to help many students (and their parents) across Canada to feel better about their math education, by sharing DO-ABLE ideas to firm up core essentials.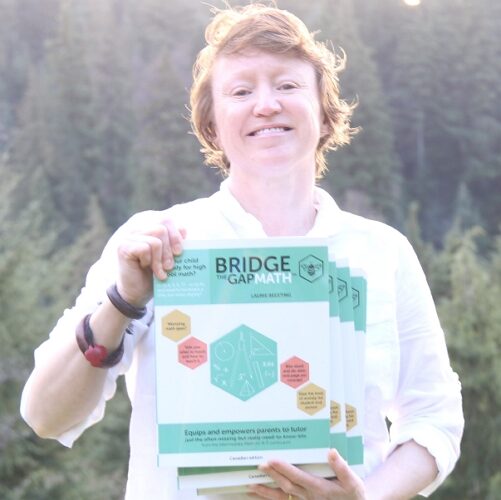 CANHSCON2020
SESSION: HOW CAN I GET MY CHILD TO 'KNOW' THEIR TIMES TABLES?
This video is designed to get us all thinking about how Times Tables knowledge and confidence is a truly vital part of coping better with Intermediate math concepts, whether we are in Grades 4, 5, 6, 7... or Grade 8 or further and already working through high school math. The curriculum skills which students meet over the Intermediate math journey are often a little daunting, as things suddenly start to feel more challenging than in the earlier years... suddenly, concepts which felt ok, begin to feel a little wobbly as we tackle trickier mechanics of multiplication, division, fractions, decimals, percentages, geometry and more... and it is important to keep one's head in a positive place to work through these more advanced stages. 
CANHSCON2021
SESSION: SHAPE & GEOMETRY IN THE INTERMEDIATE GRADES (4 - 6)
Last year, my talk was all about how Times Table knowledge is CENTRAL to coping better with so many math concepts. This year focusses in on another important area which lays a solid foundation to better access 'harder' math around the corner.  It is all about giving you practical ideas of how to ensure Shape and Geometry fundamentals are in place to ensure students reach the start of high school with some solid understanding of essential concepts, terms and vocabulary.
In my 7 mini lessons, which are directly taken from my real 1:1 lessons with intermediate level students, I take you through some 'core essential stages' of understanding the following areas:
• 2D shapes
• Terms 'regular and irregular'
• Quadrilaterals
• Triangles
• Angles
• Circles
• 3D shapes
The 'lessons' are designed so you can copy them, share them with your child or use them as a starting point for you own teaching at home.  Shape and geometry gets complicated once high school curriculum begins, and I feel it is essential to ensure basics are firmly in place before moving on.
I discuss how it is important not to assume that 'shape/simple geometry' is 'easy' and not an area of math which needs lots of attention… it is actually often overlooked and this is a shame, as knowing the basics definitely leads to better access to understanding the harder stuff around the corner!
CANHSCON2022
SESSION: HOME TEACHING MATH - MAKING IT RELEVANT, EFFECTIVE, SUCCESSFUL, MEMORABLE AND ENJOYABLE!
Traditionally, math teaching/learning often starts with a text book- but it is good to think beyond: this video helps you to explore lots of other ideas to achieve a learning objective and helps you begin to think about preferred learning styles of your children.
Laurie Beesting will share with you her experiences of trying to make a math learning objective/target 'successful' for one or more children in the homeschool setting, so math becomes a loved subject which children look forward to seeing on their schedule!